NUDE IN THE NEWS
*************************************************************
Nov 30 2010 - EPhotozine
EPhotozine congratulates Carrie Leigh's photo
contest winner John Tisbury

June 11 2010 - Daily News
Carrie Leigh's NUDE in the Daily News
June 11 2010 - Sensualitynews.com
Carrie Leigh Interview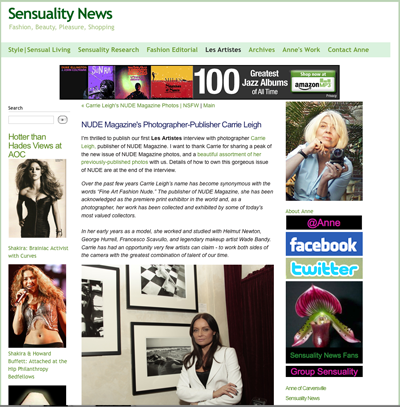 April 1 2010 - Anneofcarversville.com
Fashion Media Nudity | Conservative Values
"Tastefully executed, fashion editorial nudity may become a core part of media going forward, especially when executed by women like Carrie Leigh."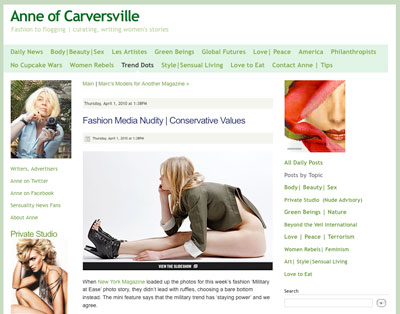 March 30 2010 - Toro Magazine
ANOTHER KIND OF NUDE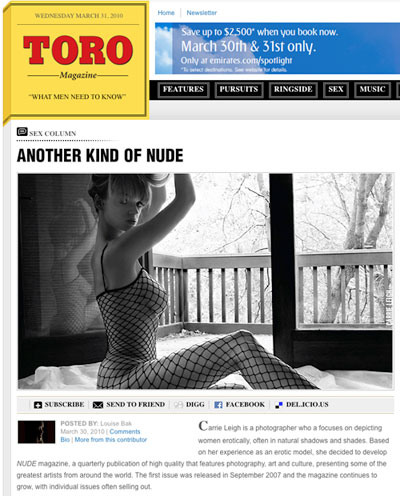 With the Internet boom came a boom in smut, but TORO Sex columnist Louise Bak talks to one editor who's holding out by publishing high-quality erotica in her new print magazine. Meet Carrie Leigh, publisher of NUDE Magazine....
Feb 13 - May 13 2010 - Carrie Leigh exhibit at Gallery Provacateur
October 21 2009 - The British Journal Of Photography
NAKED EXPOSURE
Carrie Leigh's Nude magazine is calling for entries for its third annual fine art photography competition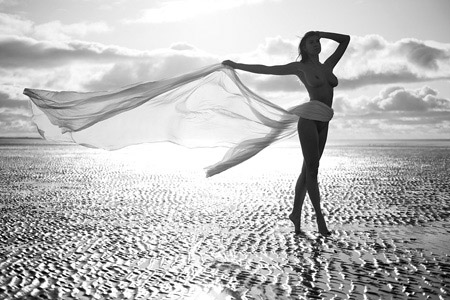 © John Tisbury Grand prize winner of solo image in 2008
The contest calls for photographers to send their best nude images in two categories - single image and exhibit. 'Judging criteria will be on the basis of conceptual creativity, use of light, artistic merit and unique style,' says Leigh, founder of Nude.
The grand prize for the exhibit is $500, with $250 and $100 for second and third respectively. Single image prizes are $250, $100 and $50. The winning entries will also be published in the magazine's summer 2010 issue. - Read More
*************************************************************
October 14 2009 - Ephotozine.com
Carrie Leigh's Nude photography contest
Nude photography contest - Carrie Leigh's Nude announce third annual fine art photography contest.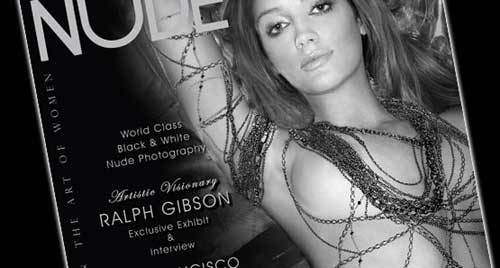 Nude photography magazine, published by Carrie Leigh, has announced its third annual photography contest which is open to both amateur and professional photographers. Cash prizes are offered as well as having the winning pictures published in the 2010 summer issue.
- Read More
*************************************************************